ACE Rental

- Luscombe, QLD
Address

5 Avatonbell Drive, Luscombe 4207




LUSCOMBE

,

QLD

,

4207

Website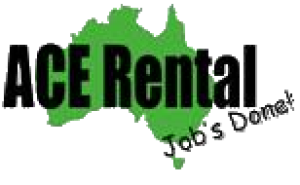 COMPANY PROFILE
ACE Rental's core business consists of both Operated Machinery Hire and Self Operated Equipment Rental, our late model low hour fleet boasts over 200 machines and covers a wide range of civil construction and road maintenance uses. Our customers work in wide variety of industries including road construction, civil construction, road maintenance, recycling and pipelines. ACE Rental's systems are designed to give you 100% service all the time. This service is backed up by our commitment to continuous improvement.
ACE Rental places a very high focus on occupational health and safety and the plant it provides and the people supporting it place top priority on ensuring the plant can be operated safely as well as reliably. At each handover of plant to our customers, ACE Rental carries out a safety handover with the person receiving the plant in the interests of a safe job and a successful Rental.
ACE rental has committed itself to training its people so that the skill and attention that is needed to provide you with maximum up-time on your job is supported by keen knowledgeable and responsive people. Through its stringent plant check in procedure each item of equipment is meticulously checked and maintained between each hire to ensure the equipment you order arrives on site ready for work.
ACE rental's fleet size, its range of plant, its annual plant purchasing and fleet upgrade programs, are all focused on giving you state of the art equipment equipped with the latest technology. We have also aligned ourselves with Sitech Construction Systems so we can supply the latest Trimble hardware with the latest software to ensure accuracy on your earthworks project.
ACE Rental has also established a range of the latest traffic management equipment including solar traffic lights and variable message signs both amber and 5 color. Our signs encompass the latest cloud software and can be both located and controlled from anywhere in the world. Our clients can also be invited to share our software and control rented signs themselves if preferred.
ACE Rental is committed to continually working with our clients to remain the premier hire company in Queensland.
"ACE Rental Jobs Done!"